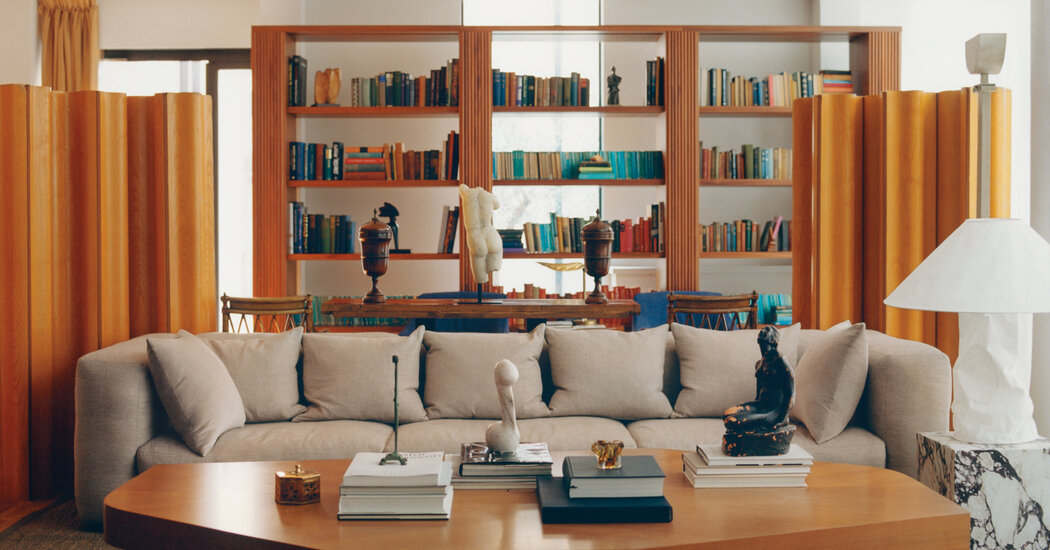 IN THE SHADOW of Claridge's hotel, a black iron gate marks the entrance to an otherwise hidden address. Cut into a red-and-yellow brick wall in Brook's Mews, a cobblestone artery in London's Mayfair neighborhood, it gives way to a private passage. This narrow alley, the proportions of which summon a darker, Dickensian past, leads to a compact courtyard, marked only by a pair of olive trees that shield the entrance to a contemporary office building.
Built as an extension to the back of a Grade II-listed terraced house on Grosvenor Street, this faceless glass structure conveys nothing of the ground-floor interior within. Devised by Alexy Kos and Che Huang of the London design firm Child Studio as a hybrid work and social space for the Iranian hotelier Navid Mirtorabi — who recently opened the Twenty Two, a nearby hotel and private members' club — the Art Deco-inflected sanctuary is outfitted with rich materials like velvet and oak, curvaceous lines and eclectic objets d'art. It's a mix largely inspired by the grand salon in the 1970s Left Bank apartment of Yves Saint Laurent and Pierre Bergé; in tribute, Kos, 39, and Huang, 36, named their creation the Brook's Mews Salon (although Mirtorabi prefers simply the Digs).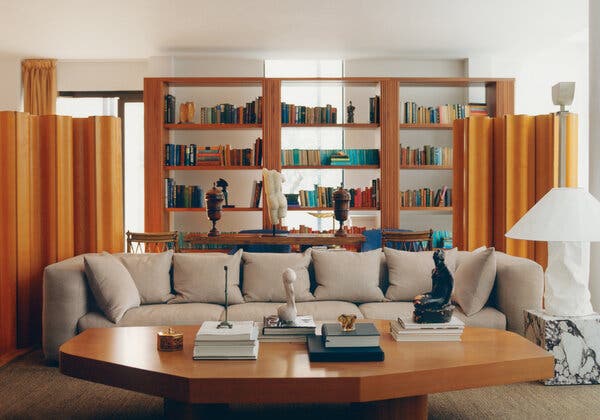 In the lounge, folding plywood screens by Charles and Ray Eames flanking a linen-covered sofa, a Lampampe lamp by Ingo Maurer on a Calacatta Viola marble plinth and a maple coffee table and bookcase designed by Child Studio.Credit…Lee Whittaker
After an era of remote working, when screens became our main portal for connection, the salon, a sumptuous private space for meetings, drinks and intimate social gatherings, feels at once romantic and ripe for revival. Here, the objects seem to be communing, exactly the mood Mirtorabi hoped to invoke when he asked the designers to create an extension of a living room.
At the Brook's Mews Salon, guests enter into a rectangular lounge room with a basket-weave-patterned parquet oak floor. Four white plaster columns frame the central seating area, where a pair of low-slung Hay sofas flank a Charlotte Perriand-inspired octagonal coffee table designed by Child Studio. Beyond it, two ethereal Ingo Maurer paper lamps positioned on Calacatta Viola marble plinths draw the eye toward a "ghost fireplace," as Kos calls it; fashioned from wire mesh and plaster, it swells from the wall like a wave.
In the study, a work by the Iranian painter Massoud Arabshahi and a 1950s Italian floor lamp by Stilnovo with opaline glass shades, behind Cassina's Pierre Jeanneret Capitol Complex teak office chair with a cane back. Vintage prints and lithographs by Jean Dubuffet, Georges Braque, Karel Appel and other 20th-century artists lean against the wall.
Credit…
Lee Whittaker
In the lounge, an African sculpture made of carved wood and black-glazed Scandinavian ceramics on the plaster fireplace.
Credit…
Lee Whittaker
At the back of the room, on a fluted bar cabinet, a collection of more than 200 pieces of vintage English crystal-cut glassware conveys the space's after-hours life. The adjacent dining area is bordered on one side by a glass-brick room divider that cordons off the kitchen, and its wooden display shelves are backed with white-veined, claret Rosso Levanto marble: The contrast of materials pays homage to Adolf Loos, the turn-of the-20th-century Moravian master of utilitarianism, a lodestar for Child Studio's two principals.
In the study, the 1960s Presidente desk lamp by the Spanish designer Pedro Martin sits on a custom leather-top desk with a brass Flame sconce by Svend Aage Holm-Sørensen on the wooden wall paneling.
Credit…
Lee Whittaker
To the right of the entrance is a 150-square-foot study hung with 20th-century paintings by Massoud Arabshahi and Mohammad Ehsai from Mirtorabi's collection of Persian and Iranian art. Next to a bespoke leather-topped writing desk, which borrows from Le Corbusier's Côte d'Azur holiday home, Cabanon, built in 1951, a bookcase wall is filled with lithographs by Jean Cocteau and Georges Braque. Throughout, the matching wooden cabinets are crowded with flea market finds — folk art, curated souvenirs and English pottery — which, Huang says, "suggest the idea of far-flung journeys, the lost sentimentality of travel." 
Underneath a skylight, a Pernilla lounge chair designed by Bruno Mathsson, next to a brass pharmacy lamp and an 18th-century English landscape painting.
Credit…
Lee Whittaker
OVER THE PAST half-decade or so, Child Studio has become known for creating commercial interiors with a nostalgic sense of place: The pair's first project for Mirtorabi was Humble, a vegan restaurant that opened on King's Road in 2019, with a deliberately retro milky pink Formica interior.
The duo first met at University of the Arts London in 2009, where Kos studied spatial design and Huang furniture making. After working for large firms, they presented a collection of lighting informed by the 20th-century paintings of Giorgio de Chirico at 2017's Salone del Mobile and launched their studio a year later. Huang, who grew up in Taichung City in west-central Taiwan, spent his youth touring residential sites with his father, an architect. The son of psychology professors, Kos was raised in Shabolovka, an area of Moscow known for its Constructivist architecture, then attended the Stroganov Academy, often referred to as the Soviet Bauhaus.
Huang, left, and Kos in the lounge.
Credit…
Lee Whittaker
In the lounge, a curved drinks cabinet designed by Child Studio, made of sapele wood with Rosso Levanto marble shelves.
Credit…
Lee Whittaker
"We go back to Modernism a lot," he says, "but always find slightly offbeat references within it." As the studio's name suggests, they approach European history with childlike curiosity — their diverse backgrounds encourage a sort of "borderless design," Huang says. The salon, he adds, already forms the "physical mood board" for their next Mirtorabi commission: a conversion of a six-story Romanesque Revival building near New York's Union Square that will open next year as a 76-room hotel. "We don't have a default mutual background to fall back on," says Kos. "So if something makes sense to both of us, it means an idea translates."